We had a really bad Easter Weekend. Luna, one of our precious guinea pigs, died Saturday morning of a uterine infection. We are all still heartbroken. She gave birth to two adorable babies on the previous Saturday(3/31) and seemed fine until Good Friday. We miss her very much, she was a sweet piggie. Also on Good Friday, our other mama piggie, Shimmer, gave birth to a girl baby. All babies and Shimmer are doing great. Mark and I made a rebound purchase of another female piggie, Ginger, in hopes that she'd be a foster mom to the orphaned babies but she didn't really do much for them. Basil, however, has stepped up and done his fatherly duties magnificantly! Currently Shimmer lives with daughter Magic Panda, and Ginger is sharing a divided cage with Basil, Rainbow and Moonshine, his babies. [aren't they ADORABLE??]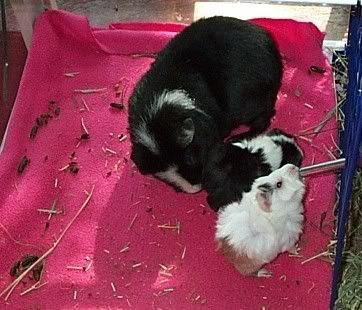 So, with all the tending to baby guinea pigs I've not had much time to post. I am happy to report that progress is being made on the decluttering project. I've loaded 3 good-sized boxes of books, a HUGE(think wheel chair-sized) box of clothing, and several boxes of miscellaneous items. It still doesn't look different in the house though, I was hoping for more of a change. Maybe that will come when I get my curtains up and finish decluttering the surfaces in the main living areas. Right now I'm working in our bedroom, putting up winter clothing and gathering items for a garage sale. So far it looks like a fabric bomb went off in there. I'd like to have it presentable by the time Mark gets home from work so I better wrap this up.

Oh yeah, I've also started with my crochet again, and have this, The No-End-In-Sight-Ripple-Along , to keep me honest. I've tried a ripple before, way back when I first learned to crochet, but it never did work out right. I found an easier pattern and think I'll be able to hang with it to make an afghan.