You Are Mud Pie


You're the perfect combo of flavor and depth

Those who like you give into their impulses

I was hoping to be buttermilk. While I'm at it...
Your Intrapersonal Intelligence Score: 98%


Your Intrapersonal Intelligence is Very High



You've spent a lot of time introspecting, and it's really paid off.

You are comfortable with who you are, and you have a life philosophy that you are happy to live by.

And you're always re-evaluating what you believe. Because you learn something new about yourself each day!

That is more like it.
And, because I still have down time(the boys are cleaning up in the garage and the girls are on the trampoline), I'll give a teeny update.
My grandpa died last Monday at age 92. It was expected, his health was failing rapidly, but still hard to believe I have no grandparents left. I won't bore yall with the details but the highlights included a Masonic funeral service(of which the family did not necessarily approve), a motel straight out of a horror movie(at which we did not stay), unruly blow-up beds, lost shoes, dogs, llamas, cows, snakes, fishing, red Oklahoma clay(LOTS of it), coyotes(of course), a skunk encounter, loads of deli trays and cakes, God-sent breaks in the weather, a fireworks display(kid you not!), a quilt shop, and getting to see the baby who was born on my birthday(he is CUTE!). Ryan, Amy, Sarah, Rose and Christian.
Jamie(my cousin), Lauren(1st cousin once removed), and her baby Lex(1st cousin twice removed). Isn't he precious?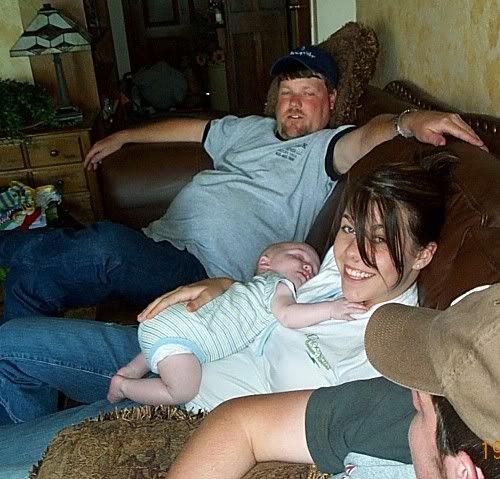 It is good to be home.