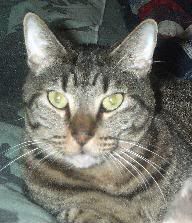 That was one of our nicknames for Chester. We also called him Checher-pie, Chesteroli, Chetchoo among others. He came to us in July of 1994, when we were living in an apartment in the college town of Nacogdoches, Texas. I found him in the pool area trying to catch birds. He was about half-grown and had been turned out when some students left for the summer. He quickly adapted to family life and was a companion for our two kitties, Junior and Pipper. A few months later we brought home a part Cairn-part Daschund, Puppy-Girl, and they would run and play chase all the time. She would try to sit on him and he'd groom her head and ears. About a year after that we came into two more kitties, Muffin and Soshie. They were bitty babies and took up with Chester immediately, as their surrogate mom, nursing on him all the time. Muffin was his special cuddle partner, they were ALWAYS together.

Last fall Chester became very ill. He lost weight very quickly(from 16 pounds to about 10 pounds) and almost died from fatty liver disease. but I hand-fed him back to sort of normal but it was obvious he was sickly. We think he had diabetes, given his obesity and age. He existed along, not well but not horribly sick either. I took care of his needs and gave him lots of extra cuddles and attention. This past Sunday, he stopped eating and quit using the litterbox(or anything for that matter). We knew he was shutting down, his breathing had become labored, he hunched up and couldn't get comfortable. So, today, we sent him to the Rainbow Bridge. He was such a good cat and we love him very much. We will miss him.

Muffin and Chester, earlier this month. You can tell in this photo just how bad he was feeling. His face says it all.