In the summertime. When it is nice and hot. This is how we roll.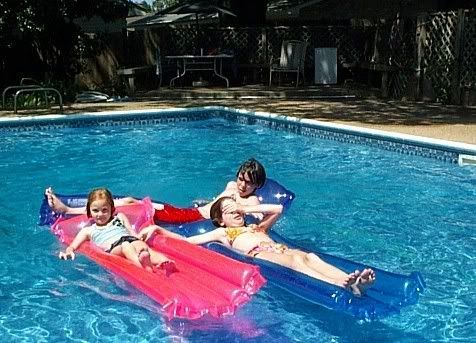 Kids on the floaties.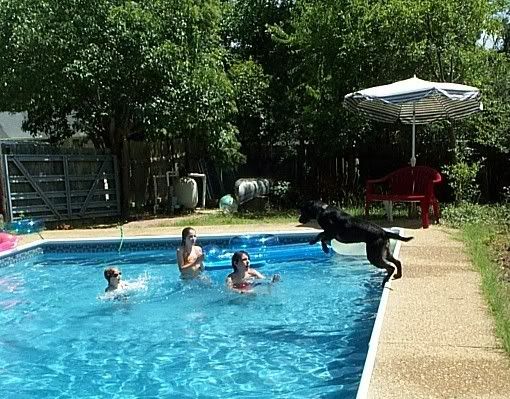 Dogs in the water!



Relaxation on the table.

In Other News...



Ginger is now semi-famous!! Check her out at Mosaic Cats where Laura's beautiful kitties have taken the challenge to befriend someone of a different species! It is worth it to also check out her stunning mosaics Here

We have finally decided to stop living in a storage room(or house) and do something about our clutter in a MAJOR WAY! It has been bothering Mark and I for a long time now but we really didn't know that the other felt the same way. For example, Mark bought a beautiful banker's desk about 2 years ago. It is HUGE but fits in our large living room. We also have a smaller desk for the kids' laptop, located behind our loveseat. This room also has a large entertainment center, a hutch cabinet, 2 bookshelves, a china cabinet, couch, loveseat, glider rocker, 2 end tables, an octagonal coffee/game table and two guinea pig cages. Several of the pieces were made by my dad and we won't part with them. Anyway, back to the desk. It is a monstrous piece, holds a TON of our junk within its deep drawers. But, we don't like it any more. None of our furniture has the same color stain but this piece stands out the most because of its size. I was hesitant to bring it up because I know Mark was so proud of finding it and he loves its classic look. It was nice to hear him say that he was tired of it. We have agreed to part with it and the smaller desk, and replace them with a hutch-desk-hutch system that was built for my brother's room when he was a kid. My dad is an EXCELLENT carpenter/furniture maker/artist so every piece he has done is just outstanding. Anyway, we plan to put the kids' school stuff and computer on it in the living room and convert the rarely used dining area to a home office/study.

Reading Laurie's(Crazy Aunt Purl) August 1st epiphany, especially where she says that what she has is "right here, in this house, right now" got me thinking that it is time to get serious about it again. Getting caught up in vacation plans, kids and their friends and activities, dinner plans, diets, pets, and so forth, can really distract from a task. It is such a huge undertaking, not one I can do alone, but one worth doing. I have already started with the kitchen by culling the crap in our catch-all cabinet beside the stove. We had anything from glue and kids craft stuff to our tea bags, batteries, old craft paints and a sea monkey kit in there. It is now 75% empty with just the things we need in it(sea monkey kit included of course). Today I plan to attack the drawers, many of which are full of pure junk, nothing we need AT ALL. Will let ya know about our progress.