(K, I didn't know you had a blog either, so we're even)

And I have to get this out of the way real quick. I found it on mizsmoochielips blog(linked in my side thingie over there). If you wanna play, just leave her a note and post on your blog. You use the first letter of your name to answer all these questions.

Famous Singer - Michael Jackson
Four letter word - Mope
Street - Main Street
Colour - Maroon
Gifts/presents - Meals out!
Vehicle - Moped
Things in a souvenir shop - Maps
Boys name - Micah
Girls name - Minerva
Movie title - Moonstruck
Drink - Malt beer
Occupation - Mother
Celebrity - Michelin Man
Magazine - McCall's
US City - Miami, Florida
Pro Sports - Major League Baseball
Fruit - Mandarin Orange
Reason for being late to work - More Sleep!
Something you throw away - Mushrooms(if they hide too long in the fridge)
Things you shout - MOVE!(usually to the cat on my legs)
Cartoon character - Mogli from The Jungle Book

And, I'm doing this one too(geez this is getting to be a looooong post today):
Here are the rules for those that choose to follow them:Players, you must list one fact that is somehow relevant to your life for each letter of your middle name. If you don't have a middle name, use the middle name you would have liked to have had. When you are tagged you need to write your own blog post containing your own middle name game facts. At the end of your blog post, you need to choose one person for each letter of your middle name to tag.... from Inspire Me Please

S-seriously
U-uncreative
E-every once in a while

Ok, now for the trip update part:

We are finally getting more settled, back in a sort of routine, from our trip. Lemme tell yall, it started off with a BANG!!.... then total darkness... then smoke from an electrical outlet... then the fire department... then an after-hours electrician... then the power company. It was all over shortly after midnight and $120 for the services. It seems our trees had been wreaking havoc with the neutral line that comes into the house, it finally snapped in half and caused a mega power surge. Thankfully we lost nothing but our computer modem($70 to replace) and several precious hours we could have been readying for the trip.

We wanted to get on the road by 6:30 at the latest but some goob(he knows he is one) had Mark sign a contract on the wrong lines the day before we left. He had to meet us at Mark's office to get it re-signed at 8am so we didn't leave til about 8:30. For some reason, it takes us longer to get to North Carolina than to get home. I think we misjudge how long our breaks last. Anyway, the trip was mostly uneventful except for a rain downpour starting north of Atlanta and lasting most of the rest of the way in. Those are always fun to drive in.... in the mountains.... with 18-wheelers. We pulled into the driveway at 4am Friday. Then the fun started!

4:30, Puppy-girl came with us and was to be tethered outside the porch area. She didn't think that was a good idea and started yipping as soon as we got settled in bed. 4:45, We brought her in and I slept holding her leash with her on our bed. 5:00, What the Heck? A ROOSTER!!!! Yep, the neighbors have one and boy is he LOUD!! And persistant! I never was able to sleep through his crowing. My dad told us the next day that P-girl would have to sleep inside anyway, their county is having a big problem with rabid animals, especially raccoons and coyotes. Good to know.

Here are a few of the other things we saw and did in North Carolina. I did not take my camera to the many thrift shops we visited and haven't taken pics of the booty we found there(but I will). Anyway... enjoy.

Sarah trying to pinch Mark with her crawdad at the nearby creek we hiked to.



Ben, Aaron, Barbara, and Tammy enjoying Sarah's retelling of every episode of Spongebob she's ever seen. Barbara is Aaron's girlfriend, Ben and Tammy are her kids. Can't you tell they are enthralled?



The creek we hiked to, I think this is White Oak Creek. I ended up chest deep in ice-cold water so that I wouldn't litter. My water bottle got loose from me in a deep pool and I had to retrieve it.



The kids hunting crawdads and salamanders under the boulders along the creek.



Horses stabled down the road from my parents place. Aren't they gorgeous? P-girl had a run-in with their neighbor's horse, she decided to charge it! They were nose to nose until I grabbed her by the scruff of the neck and yanked her to safety. Dumb girl thinks she's as big as a wolf hound.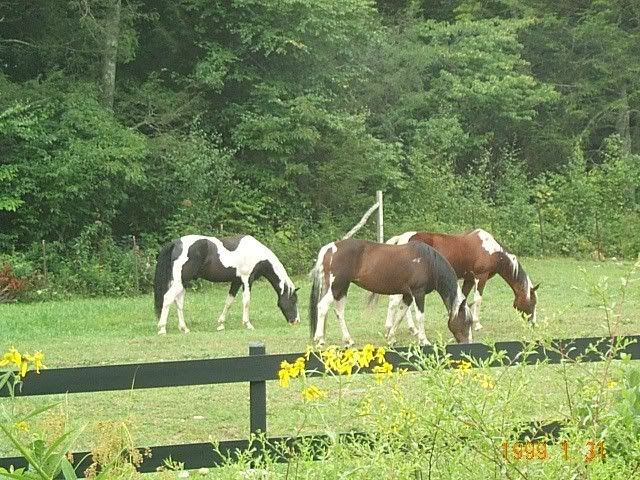 I swear he caught this within 10 seconds of being in the creek(at my parents house).



Daytime pictures of the firepit pad.



A *critter*. A Spotted Newt in Red Eft stage, also colloquially called an Elf Newt.
(newt link)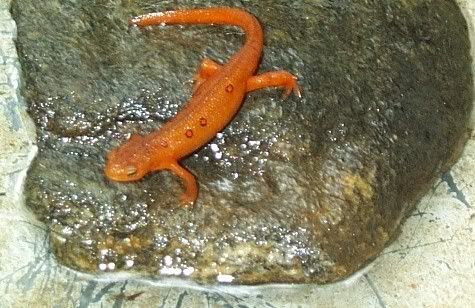 Old Barn on the way to the creek.



And, in the vein of Larry the Cable Guy, "Lord, I apologize for thinkin' this here sign is funny"(but it is, not just for the image but for the location, on a sparsely populated country road, just down from that beautiful barn and around the corner from the horses)