***updated***I moved the pictures to the bottom of this post lest people think we eat Guinea Pigs for Christmas dinner(thanks Aaron!).

Quite possibly my favorite thing about celebrating Christmas, besides the trees and lights, and fun, is the food!

We don't do a lot of parties and such but now and then we'll attend something that requires a dish or snack. My favorite side dishes to take along are Broccoli Rice(or Quinoa) Casserole and Special Dilled Potatoes. I'm actually taking the potatoes to a party tomorrow night!

My new favorite snack is my special recipe Deviled Party Mix. I use a large roaster pan for it because I like having it last all week long. My recipe goes something like this(all amounts are extremely approximate, sometimes I have to adjust as its cooking)...



(Pillsbury image)

Deviled Party Mix

Corn, rice, and wheat Chex cereals(about 3/4 or more of each box)
Quaker Oat(meal?) Squares cereal(I usually use all but a bowl or two of this)
pretzel twists(most of the bag)
salted mixed nuts(larger can)

3/4 cup margarine
1/4 cup olive oil
1/3 cup balsamic vinegar
1/4 cup honey
1/4 cup(or 1/8th) spicy horseradish mustard
1/2 teaspoon cayenne pepper(or more)
1/2 tablespoon seasoned salt(remember, this is a large amount of cereals to cover)
1 teaspoon each, garlic and onion powder

Mix the oil, margarine, vinegar and honey together and melt in 225 oven for about 13 minutes. Mix in spices and mustard, adding more oil if it doesn't seem like enough to coat all the cereals.

Add oatmeal squares first, then the rest. Stir well to coat, usually several minutes. Bake at 225 for 15 minutes. Stir well again and continue stirring every 15 minutes for about an hour. Because there is so much it sometimes takes longer to get it all dried out so play it by taste and texture.

Tomorrow we're going to get our tree at Danville Farms. I'm hoping to get it up and ready for lights before we go to the party. Sunday will probably be the big decorating day for us though.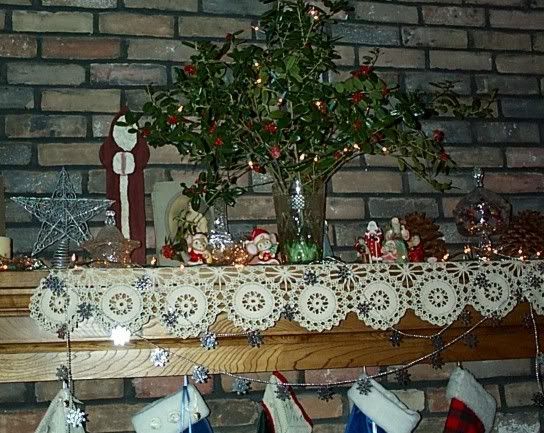 (last year's mantel)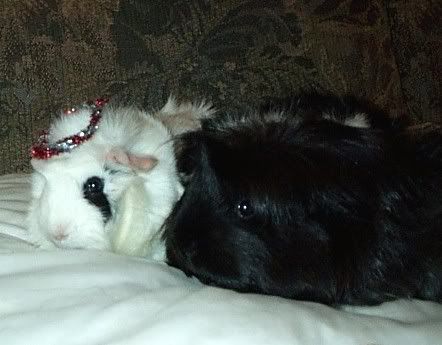 (Shimmer and Stella being Christmas angels)