Someone asked a few days ago if I had made the cat wall hanging in my banner. Yes, I did! A few years ago I wanted a simple cat applique and drew that one out. It is done in a dark brown fabric that looks like wood grain on a muslin background. About the time I had it finished, I bought some pieces of felt. I wanted them a bit more "felty" so I put them in some boiling water on the stove. What emerged was some slightly lumpy, beautiful pieces that had lost a lot of their vibrant colors(but are still very nice). The liquid that was left made a perfect dye so in went the cat! The background turned a washed-out pumpkin color but the cat just darkened slightly. It was an experiment that went right!

Here it is without the Halloweenie effects:



Along with a few of my other applique WIPS and finished projects.
This is a large wall hanging of the oak tree that is in our back yard. I hope to finish it before next Spring.



I have two more of these Sunbonnet Sues but have run out of the background muslin(it was from a vintage bag) so that will be all I do.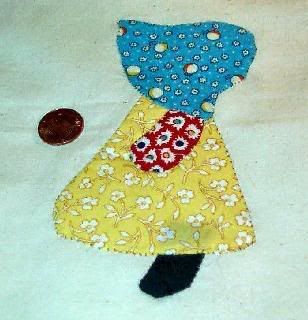 This is a small wall hanging for my dad's woodturning shop. It has a turned bowl and vase on it and looks better in real life(this was edited many years ago with a cruddy photo editing program).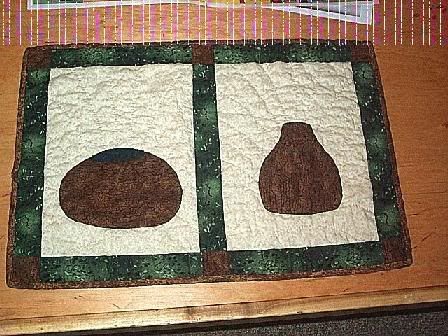 Here is one of my favorites! This is a rocket I did for the first grandchild of our next door neighbors. I babysat his mother when I was a teen. The binding around the window sill, where the curtains hang down, was unbelievably hard to do. Don't you just love the flame fabric?



And finally, this wall hanging was a challenge I did in an online group. The challenge was to create something from The Wizard of Oz. Can you guess which character inspired me?