We got Soshie in November of 1996, just before Amy's first birthday. She was being given away along with a carrier full of siblings in the parking lot of the Nacogdoches Walmart. The owner claimed they were barn cats and she appears to be. Soshie loves to be petted(by me) but will not let anyone hold her or cuddle her on their laps(even me). She's a very petite, high-strung kitty but also really sweet and smart.




About two weeks ago I noticed she was rapidly losing weight and was spending almost all of her time crouched on the computer monitor(pic is from this summer, before her illness). It seemed as if she had a bad tummy ache and was using the warmth of the monitor to sooth her pain. She was barely eating, taking maybe two to four bites of food a day, not even eating cooked chicken which she loves and not using the litterbox. I assumed she had something bad wrong with her, like cancer(she has mammery tumors) and would most likely be leaving us soon.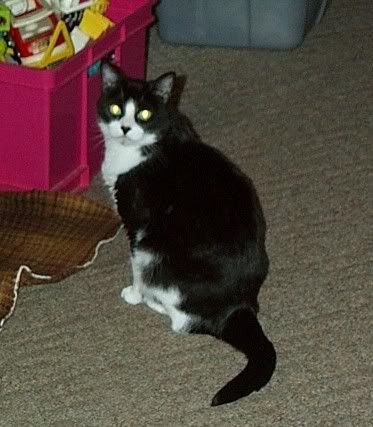 Last night, I brought her to our bedroom as usual and she got in the litter box. She strained and finally went. I saw something glittery and was thinking it might be a tapeworm or something. On closer investigation I found it to be a metallic pompom strand from one of Ryan's toys, about 10 inches long. She seemed to feel better and purred louder than I've heard in several days. This morning she was even marching around on the bed asking for "daddy pets" from Mark. She is definitely more alert and hasn't made her way back to the monitor yet, choosing to stay on my bed. Maybe she's turned a corner and will be fine. I hope so.