Friday night we attended a Halloween party hosted by a pagan friend. There were wicked cool decorations, great food, interesting folks, and fun games! The weather was perfect and much of the activities were outside. A few people had guitars and there was singing going on around the fire along with much merry-making. We did a game where we all got in a circle and tossed half-used balls of yarn across to the people on the other side who had to wind the yarn around themselves and toss it back across to someone on the opposite side. It made a nice spidery web. Then our hostess spoke about how we are all interconnected and that things far from us can affect us in ways we don't really think about(her example was the California fires). She also spoke about having compassion. It was a really neat "game".

We all went to the party but early on we took the kids to overnight events so we were able to have a relaxing Saturday by ourselves! We went to the mall so I could redeem a free sample card at Bath and Body Works but they were out of them. Then we ate at a Mexican place, stopped at Mark's office to drop off a printer, and came home to do laundry and watch college football. It was wonderful to have the whole afternoon and evening to ourselves for conversation. The girls didn't get home til after dark and the boy spent another night with his friends since they were at a church picnic/bonfire thingie.

Sunday was a work day for me. I primered and painted the hutches we're going to put in the living room. They'll get more coats this afternoon and hopefully we can move them in next weekend. There is a desk section that bolts in between them but it has yet to be located at my parents' place and it isn't here either. I did see it there last winter though so there is hope that we'll be able to use it one day. We also have a corner hutch and kitchen table to paint so I may drag one of those out to put the primer on.

Here is the before picture:



And here they are in progress: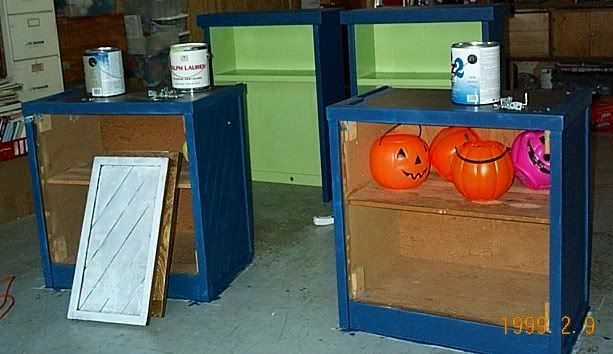 We don't have much planned for today except to carve our jack o'lantern and find some wire or leather straps to hang
Calvester and Franklin.