As in just regular bizzy, not hectic stressful bizzy. Unfortunately, Soshie has continued to worsen. I'm afraid she won't last many more days. She is refusing to eat or drink and is so very weak. It has to be the cancer, I felt her tummy and there are lots of hard lumps along and under her nipples. I just wish she wouldn't suffer much longer.

Anyway, aside from that sadness, we are doing good. Mark's job has kept him late for the last 2 weeks, that's getting old but probably won't let up any time soon. It makes for a hard time doing dinner but we have it worked out now.

We had a spend-the-night guest last night so we had to run her home after lunch. Earlier I took them all to watch Ryan's flag football game so I could do my walking around the track(1.5 miles!). Mark had dropped Ryan off and then gone for a run, turns out it was a SEVEN mile run!!! He was a bit tired. After the haircuts we stopped by and picked up our raw milk order for this week and now we're finally home. All except Ryan, he went to a movie with some kids from his youth group and is now at their house until after dinner.

The girls have been wanting new hair styles for a few weeks now. We finally had some time(and money) to go get it done. They look SO Good! I got mine trimmed too. If you'll look to the right at the pic of me in the blue, it looks much like that but about an inch shorter in the back and better bangs. I had it straightened in that pic but now it is fluffy with the back and sides kicking up in a stylish way because I have wavies. Still, not a big enough diff to photograph, maybe later. Here are the girls...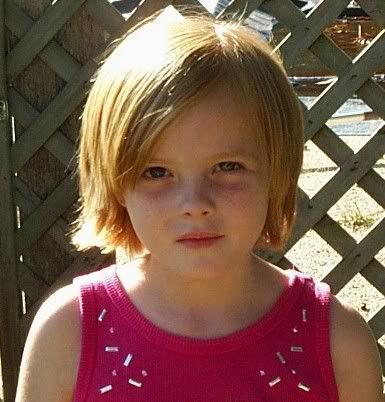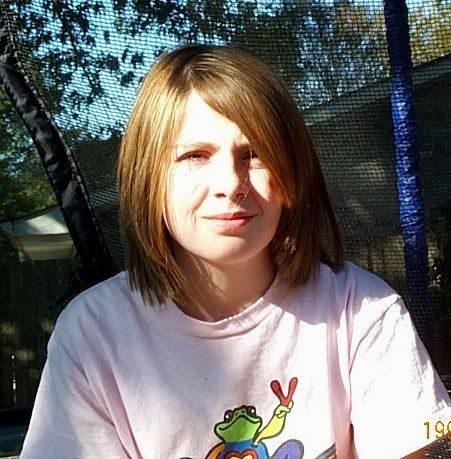 And here's a sneaky peek at their halloween duds. Amy now has a better(much longer) skirt, courtesy of Goodwill and Ryan has found all the elements for an Aragorn from LOTR costume so he won't be a cowboy(darn it).