I'm taking part in Carrie's(of Sommer Designs) Dinner Challenge for the week, having just found her blog about an hour ago. Her challenge is to cook dinner every night for 5 nights, something you haven't tried before or something you haven't made in a long time. ***Edited to clarify that this doesn't have to be done with things you have on hand, just that you go shopping once with a good list, so you don't have to run out and get "only xyz" and come home $75 poorer*** To be fair, today was shopping day for me so some of the things in this recipe are not staples(cilantro and green onions aren't always in the larder)I got in on it a bit late but I do have my recipe from Monday's post(we had leftovers last night-deliciously served over spaghetti squash that I'm ashamed to say has been on my shelf for 5-6 weeks now!) and one tonight that I can share. This might be leftovers for tomorrow or Friday too so my 5 nights might take longer than a week to complete. I consider that a bonus!!

Tonight's Meal:

Baked Bean Dip

Stuff you'll need:
2 cans refried beans(fat free or not, your choice)
1 cup grated cheese(as you can see, mine is cut up because the grater was in the dishwasher getting all cleaned up)
1/2-3/4 cup salsa
1 cup sour cream(or more, depends how much you like it)
Combine in greased 8x8 baking dish(or 9x13 if using 2 cans of beans). Bake about 20 minutes at 350.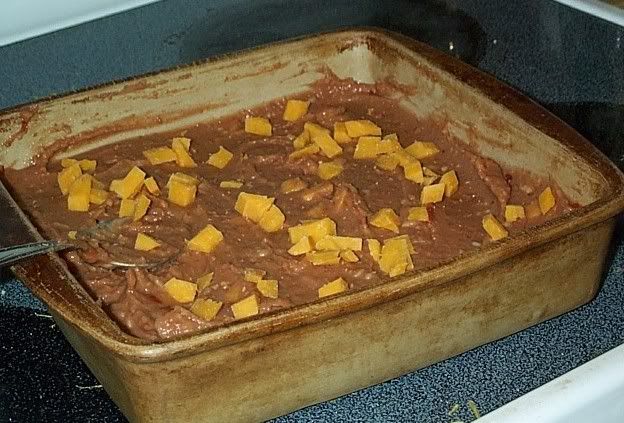 Meanwhile chop and combine:

1-2 cups cherry tomatoes
1 cup cilantro(chopped to make this much)
20-30 black olives(add green ones too if you'd like)
1-3 green onions(depends on size, I've got big ones but have seen some much smaller)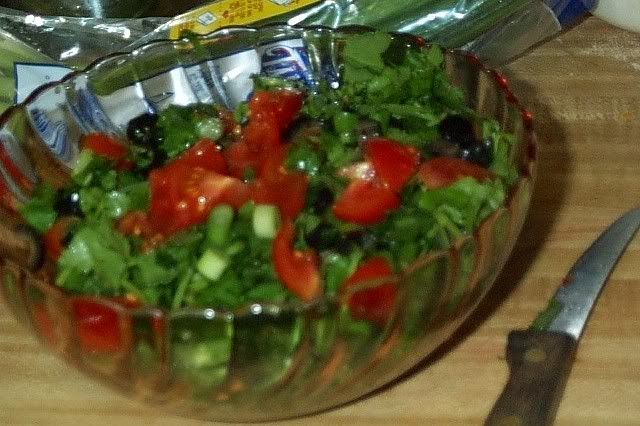 Take dip out of oven and let cool 5-6 minutes.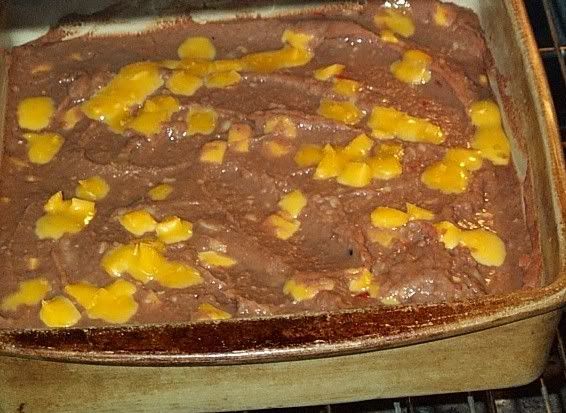 Spread the bean mixture with sour cream, I dollop it on with a spoon and gently smear around.



Sprinkle with the veggie mixture.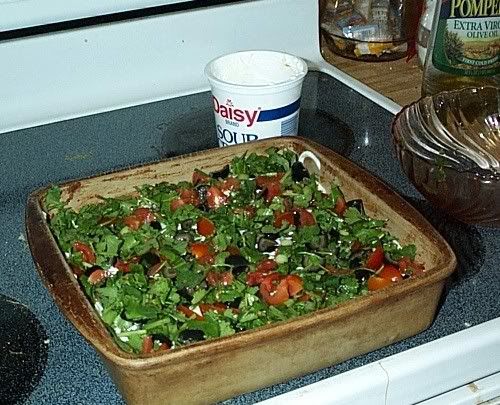 Serve with tortilla chips. Enjoy!!!