November! What a month!! First I was unable to get my camera to transfer pictures so I couldn't show off my fall mantle decorations...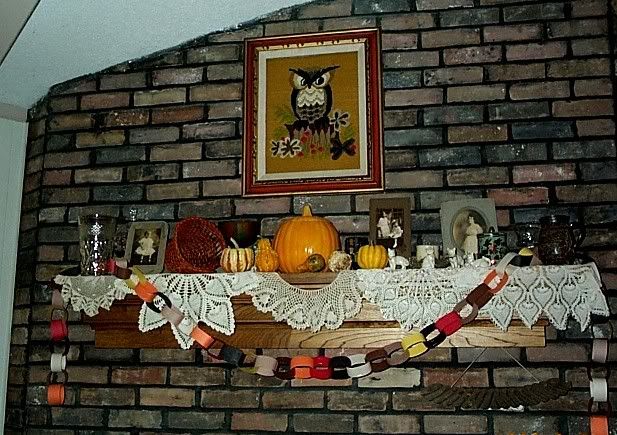 (fall mantle decorations include leftover halloween gourds and pumpkin-our ceramic jack 'o lantern turned backwards)

I also managed to finish painting my hutches and install them in the living room on either side of my loveseat but my camera batteries died before the pics could transfer-they'll be on here later.

We took a memorable trip to Tiger Creek Wildlife Refuge for Amy's 12th birthday celebration...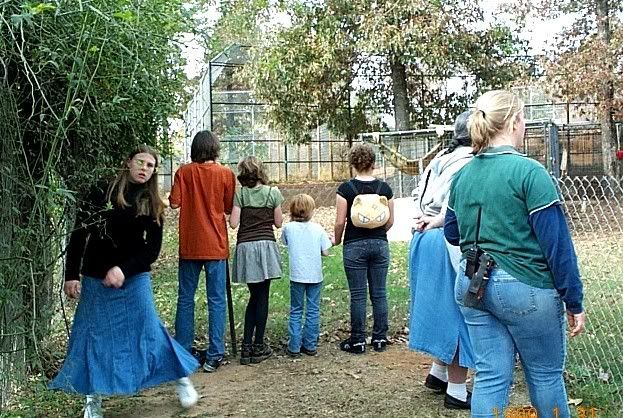 (Hannah, Ryan, Amy, Sarah, Sidney, Terry, and tour guide from Ohio State University who was wonderful!)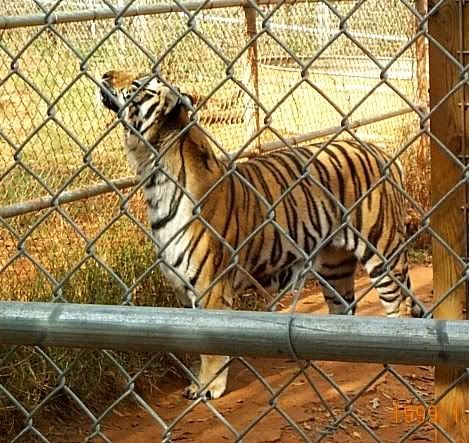 (big tiger whose name I can't recall)



(this would be Gunther)

Earlier in the month we met our homeschooling friends who moved to the Dallas area last year. They camped at Tyler State Park and we joined them for dinner and S'mores. It was a really nice visit, wish we could do it again!



(clockwise from top, Sarah, Kailey, Erica, Ryan, Alex and Amy)

Things were fairly uneventful the rest of the month. We had Thanksgiving at Granny's and enjoyed the company of our beloved neighbor cat, Tom.



(Tom knocked out on the coffee table)

Ummm, uneventful except for this one thing that happened in our front yard on a very windy day and threatened to blow our house up and killed phone service for our entire neighborhood for about 10 hours...



(this used to be an evergreen garden with several holly bushes and junipers, just beyond the vacant lot are the woods in which the coyotes live)



(there is a telephone box here-hence the large hole- and a natural gas line-complete with "danger do not dig" sign)

So far December is going much the same way. The good stuff includes the fact that Soshie is continuing to improve, albeit slowly. We were able to get a beautiful 10-foot-tall Christmas tree that is just perfectly shaped and doesn't lean. It was easy to set up, took us 20 minutes tops. And, our Christmas shopping is nearly done. We even managed to replace Sarah's cool boots that got left outside for the dogs to chew.

Then the rollercoaster, good/bad thing again... Ryan had a church Christmas party last night and went to spend the night with friends afterward. The phone rang about 9:30 with friends' mom saying that Ryan had fallen and broken his arm. Soooo, off to the ER we went, 9:45 on a Saturday night. Fun. It actually wasn't too bad, except that my child was in severe pain. Luckily the ER staff recognized this and got him good drugs to help him out. The attending doctor was able to set it. The fracture was a total break at the end of his radius(big bone) about an inch from his wrist. He has a fiberglass temporary cast until we see an orthopedic doctor this week sometime for a plaster cast. December is going to be a loooooong month! But with cuteness like this I think I can survive...



(Rainbow the G-pig as Rudolph, more piggie cuteness forthcoming)