It's a Meme, an online game of tag. Answer the questions, tag someone else, that is how the game is played. Karen from Leaping From the Box got me this time around.

Here are the questions and they pertain to the past week(check out my previous post for accomplishments during the month of November):

1. What did you accomplish?
2. Did anything not go as expected?
3. What was the highlight of your week?
4. Did anything exciting happen you did not expect?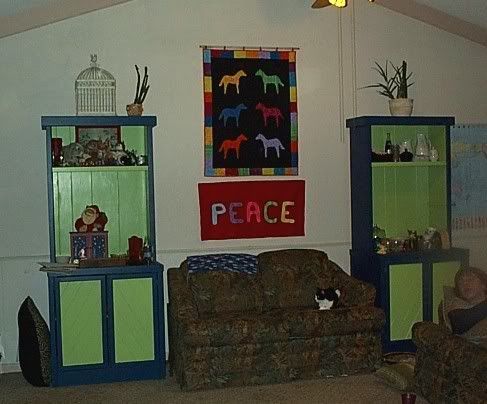 1. I managed to get some lovely felt Christmas ornaments made with help from my daughters. I finished a knitted scarf and a crocheted hat. I made party mix and moved furniture so we could set up our tree. The hutches have remained mostly clear of junk(what is there now is stuff from the china cabinet, taken out so we could move it).

2. I truly did not expect to find myself this far along with an unfinished major Christmas present! Also, I lost my white dmc floss and can't finish my festive PEACE banner(shown in photo).



3. Finding the perfect Christmas tree was the highlight of my week. It took about 20 minutes to get it set up with no monkeying around with it at all. There are no bent trunks, no holes or gaps, no weirdness, just a perfect Christmas tree! I spent less than 15 minutes putting the lights on, and thanks to the girls, it is now nearly all the way decorated! Trust me, the times are important, it usually takes us HOURS to get the tree up and days to get it decorated!!

4. Well, I did not expect to be at the ER with Ryan on Saturday night with a broken arm. I also didn't expect to get in and out of the ER within 2 hours on a Saturday night. That was the amazing part!! He gets his plaster cast Tuesday morning.

Now for promised Piggie Cuteness...


(Basil spreading Christmas cheer)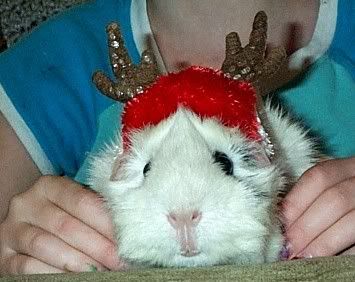 (Shimmer just before she flew into a fit)



(Moonshine, Basil, and Bevo looking festive)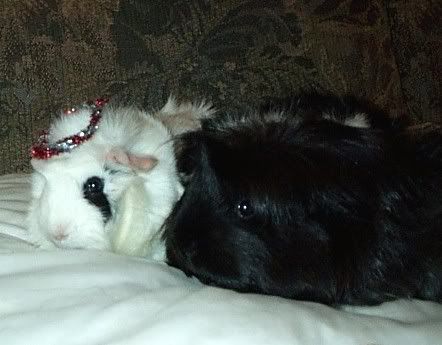 (Shimmer and Stella being angelic and not fooling anyone!)